Tension Control (TC) Structural Bolts

We are Stockholder & Distributors of Tension Control Bolts, Dome Head, Round Head, Button Head, Hex Head, Hexagon Head, Hexagonal Head which meets all AISC requirements and specifications of ASTM A325, ASTM A325M, ASTM A490, ASTM A490M for Structural / Construction
ASTM A325 / ASTM A325M Tension Control T.C Bolts
ASTM A325 / ASTM A325M Structural Tension Control (TC) Bolts
ASTM A325 / ASTM A325M High Strength Structural Tension Control (TC) Bolts
ASTM A325 / ASTM A325M High Strength TC / T.C / TCB Bolts
ASTM A325 / ASTM A325M Torshear Type High Strength Bolts
ASTM A325 / ASTM A325M Torque Shear Type High Strength Bolts
ASTM A325 / ASTM A325M Twist-off Type TC / T.C Bolts
ASTM A325 / ASTM A325M High Strength Friction Grip Bolts
ASTM A490 / ASTM A490M Tension Control T.C Bolts
ASTM A490 / ASTM A490M Structural Tension Control (TC) Bolts
ASTM A490 / ASTM A490M High Strength Structural Tension Control (TC) Bolts
ASTM A490 / ASTM A490M High Strength TC / T.C / TCB Bolts
ASTM A490 / ASTM A490M Torshear Type High Strength Bolts
ASTM A490 / ASTM A490M Torque Shear Type High Strength Bolts
ASTM A490 / ASTM A490M Twist-off Type TC / T.C Bolts
ASTM A490 / ASTM A490M High Strength Friction Grip Bolts
ASTM F1852 Type-1 / A325 / Class 8.8 Tension Control T.C Bolts
ASTM F1852 Type-1 / A325 / Class 8.8 Structural Tension Control (TC) Bolts
ASTM F1852 Type-1 / A325 / Class 8.8 High Strength Structural Tension Control (TC) Bolts
ASTM F1852 Type-1 / A325 / Class 8.8 High Strength TC / T.C / TCB Bolts
ASTM F1852 Type-1 / A325 / Class 8.8 Torshear Type High Strength Bolts
ASTM F1852 Type-1 / A325 / Class 8.8 Torque Shear Type High Strength Bolts
ASTM F1852 Type-1 / A325 / Class 8.8 Twist-off Type TC / T.C Bolts
ASTM F1852 Type-1 / A325 / Class 8.8 High Strength Friction Grip Bolts
ASTM F2280 Type-1 / A490 / Class 10.9 Tension Control T.C Bolts
ASTM F2280 Type-1 / A490 / Class 10.9 Structural Tension Control (TC) Bolts
ASTM F2280 Type-1 / A490 / Class 10.9 High Strength Structural Tension Control (TC) Bolts
ASTM F2280 Type-1 / A490 / Class 10.9 High Strength TC / T.C / TCB Bolts
ASTM F2280 Type-1 / A490 / Class 10.9 Torshear Type High Strength Bolts
ASTM F2280 Type-1 / A490 / Class 10.9 Torque Shear Type High Strength Bolts
ASTM F2280 Type-1 / A490 / Class 10.9 Twist-off Type TC / T.C Bolts
ASTM F2280 Type-1 / A490 / Class 10.9 High Strength Friction Grip Bolts
JSS II 09 S10T Tension Control T.C Bolts
JSS II 09 S10T Structural Tension Control (TC) Bolts
JSS II 09 S10T High Strength Structural Tension Control (TC) Bolts
JSS II 09 S10T High Strength TC / T.C / TCB Bolts
JSS II 09 S10T Torshear Type High Strength Bolts
JSS II 09 S10T Torque Shear Type High Strength Bolts
JSS II 09 S10T Twist-off Type TC / T.C Bolts
JSS II 09 S10T High Strength Friction Grip Bolts
TCB GB/T 3632 10.9s Tension Control T.C Bolts
TCB GB/T 3632 10.9s Structural Tension Control (TC) Bolts
TCB GB/T 3632 10.9s High Strength Structural Tension Control (TC) Bolts
TCB GB/T 3632 10.9s High Strength TC / T.C / TCB Bolts
TCB GB/T 3632 10.9s Torshear Type High Strength Bolts
TCB GB/T 3632 10.9s Torque Shear Type High Strength Bolts
TCB GB/T 3632 10.9s Twist-off Type TC / T.C Bolts
TCB GB/T 3632 10.9s High Strength Friction Grip Bolts
TCB Grade S10T / F10T Tension Control T.C Bolts
TCB Grade S10T / F10T Sructural Tension Control (TC) Bolts
TCB Grade S10T / F10T High Strength Structural Tension Control (TC) Bolts
TCB Grade S10T / F10T High Strength TC / T.C / TCB Bolts
TCB Grade S10T / F10T Torshear Type High Strength Bolts
TCB Grade S10T / F10T Torque Shear Type High Strength Bolts
TCB Grade S10T / F10T Twist-off Type TC / T.C Bolts
TCB Grade S10T / F10T High Strength Friction Grip Bolts
Installation Procedure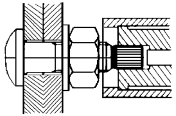 1. Fit the inner socket of the shear wrench over the spline on the bolt and push forward until the outer socket engages completely with the nut.
2. Pull the larger trigger on the wrench. The inner socket will hold the bolt in place while the outer socket tightens the nut. The spline will shear off when proper tension is reached.
3. Remove the wrench from the nut and pull the ejection trigger. This will eject the spline from the inner socket of the wrench. The installation is now complete and may be verified visually.
A325 TC (F1852) Assemblies Type 1 Plain Finish
Diameters: 5/8″ – 1 1/8″
Lengths: 1 1/2″ – 9 1/2″
Domestic and Import available
A325 TC (F1852) Assemblies Type 1 Mechanically Galvanized
Diameters: 5/8″ – 1 1/8″
Lengths: 1 1/2″ – 9 1/2″
Mechanically Galvanized to ASTM B695 Class 55
Featuring LeJeune exclusive solid film nut lubricant for superior torque/tension control. This lubricant is less succecptable to moisture providing consistent installation tensions.
Domestic Only
A325 TC (F1852) Assemblies Type 3 Weathering Steel
Diameters: 7/8″ Additional diameters available by special order.
Lengths: 2″ – 8″
Used for DOT approved bridge construction. Provides a significant installed cost savings over A325 Heavy Hex Bolts installed using Turn-of-the-nut or DTI methods.
Domestic only
A490 TC (F2280) Assemblies High Strength Tension Control bolt, nut, washer assemblies for use in structural connections.
A490 TC (F2280) Assemblies Type 1 Plain Finish
Diameters: 3/4″ – 1 1/8″
Lengths: 1 3/4″ – 8 1/2″
Domestic and Import available
Inspection & Approval Certificates : C/W Certificate (Calibration Works Certificate) EN 10204 3.1 / DIN 50049 3.1 / ISO 10474 3.1 Mill Test Certificate, NACE MR-0103 / NACE MR-0175 / ISO 15156, CE Marked, European Pressure Equipment Directive PED-97/23/EC, AD-2000-WO, ASME Boiler & Pressure Vessel Code Sec.II Part A Ed. 2008, API 6A (American Petroleum Institute), with 3.2 certificate duly Certified & Approved by LRS (Lloyd's Register), GL (Germanischer Lloyd), BV (Bureau Veritas), DNV (Det Norske Veritas), ABS (American Bureau of Shipping), SGS, TUV, RINA, IRS, NORSOK Approved Standard M-630, M-650 Rev.3

If you have any requirement of above items, please feel free to contact us

Regards,

CONTACT PERSON :

MUKESH SHAH
Director
Mobile No. 0091 - 9820292499
Email - marketing@rolexmetals.com

ROLEX METAL DISTRIBUTORS
( A METAL & STEEL Company )
57-A, KHATARGALLI,
THAKURDWAR,
MUMBAI - 400002, INDIA.
TEL.No. 0091-22-23858802
TEL.No. 0091-22-23823963
FAX No. 0091-22-23898724
Email - marketing@rolexmetals.com
Website – www.rolexmetals.com
CHAIRMAN – chairman@rolexmetals.com
MANAGING DIRECTOR – managingdirector@rolexmetals.com
TECHNICAL DIRECTOR – technicaldirector@rolexmetals.com
SALES DIRECTOR – salesdirector@rolexmetals.com
COMMERCIAL DIRECTOR – commercialdirector@rolexmetals.com
COMMERCIAL MANAGER – commercial@rolexmetals.com
GENERAL MANAGER – generalmanager@rolexmetals.com
SALES MANAGER – salesmanager@rolexmetals.com
PURCHASE MANAGER – purchasemanager@rolexmetals.com
TECHNICAL MANAGER – technical@rolexmetals.com
WORKS MANAGER – worksmanager@rolexmetals.com
STORES MANAGER – stores@rolexmetals.com
WAREHOUSE MANAGER – warehouse@rolexmetals.com
SALES DOMESTIC – salesdomestic@rolexmetals.com
SALES INTERNATIONAL – salesinternational@rolexmetals.com
SALES GENERAL – sales@rolexmetals.com
PURCHASE GENERAL – purchase@rolexmetals.com
FINANCE MANAGER – finance@rolexmetals.com
ACCOUNTS MANAGER – accounts@rolexmetals.com
GENERAL INFORMATION – info@rolexmetals.com
EXPORT MANAGER – export@rolexmetals.com
IMPORT MANAGER – import@rolexmetals.com
AIR EXPORT – airexport@rolexmetals.com
SEA EXPORT – seaexport@rolexmetals.com
CUSTOMS – customs@rolexmetals.com
AIR FREIGHT – airfreight@rolexmetals.com
SEA FREIGHT – seafreight@rolexmetals.com
DESPATCH – despatch@rolexmetals.com
INSPECTION – inspection@rolexmetals.com
LOGISTICS – logistics@rolexmetals.com
TRANSPORT – transport@rolexmetals.com
KALAMBOLI WAREHOUSE – kalamboli@rolexmetals.com
TALOJA WAREHOUSE – taloja@rolexmetals.com
KHOPOLI WAREHOUSE – khopoli@rolexmetals.com
NHAVA SHEVA WAREHOUSE – nhavasheva@rolexmetals.com
KANDLA WAREHOUSE – kandla@rolexmetals.com
MUMBAI WAREHOUSE – mumbai@rolexmetals.com
STOCKYARD – stockyard@rolexmetals.com
SERVICE – service@rolexmetals.com
SUPPORT – support@rolexmetals.com
RECRUITMENT – career@rolexmetals.com
WEBMASTER – webmaster@rolexmetals.com
CUSTOMER CARE – customercare@rolexmetals.com